Testing can prevent the spread of COVID-19
Antigen tests can be run on the same patient population as RT-PCR to test individuals suspected of COVID-19 by their healthcare provider for various reasons, including known exposure or working in a high-risk environment. In addition, Beckman Coulter's Antigen assay is also validated in asymptomatic patient populations to ensure high-quality performance and provide caregivers with confidence in results..1 Greater availability and lower pricing make antigen tests a potential superior first line of defense against COVID-19.2
Antigen tests can be used for testing in high-risk settings in which repeat testing could identify persons with a SARS-CoV-2 infection along with other relevant clinical information to minimize transmission.3
Confirmatory RT-PCR testing may not be necessary, when the pretest probability for SARS-CoV-2 virus is high.4

The Access SARS-CoV-2 Antigen Assay:
Generates high-quality results that are comparable to most RT-PCR tests with a Positive Percent Agreement (PPA) of 93% at seven days Post Symptom Onset (PSO) in symptomatic and 92% in asymptomatic patient populations and Negative Percent Agreement (NPA) of 100%
Assay's limit of detection is 2 to 200 times lower therefore more sensitive than most point-of-care (POC) antigen tests
Provides time to first result in 30 minutes, enabling faster results for real-time decision making
Is designed to support high-volume testing needs with a high level of automation, resulting in reduced risk of analytical errors, improved workflow and easy reporting of patient results
Laboratory-quality Mass COVID-19 Testing
Not all point-of-care (POC) antigen tests have been validated for use in asymptomatic patient populations
While point-of-care (POC) antigen tests have a purpose in diagnosing COVID-19, they are resource-intensive, inefficient and not scalable when needing to address high-volume testing5
The same POC test used to deliver a result within 15 minutes to a single individual cannot perform as efficiently when asked to deliver results for 100 or 1,000 individuals; the workflow breaks down due to too many manual steps in the process
Furthermore, hospitals and laboratories are required to report positive COVID-19 results to regulatory bodies. Point of care testing may require manual recording of patient data to their Electronic Medical Record (EMR); however, automated mass testing results are transmitted automatically via Laboratory Information Systems (LIS).
Workflow matters when time is of the essence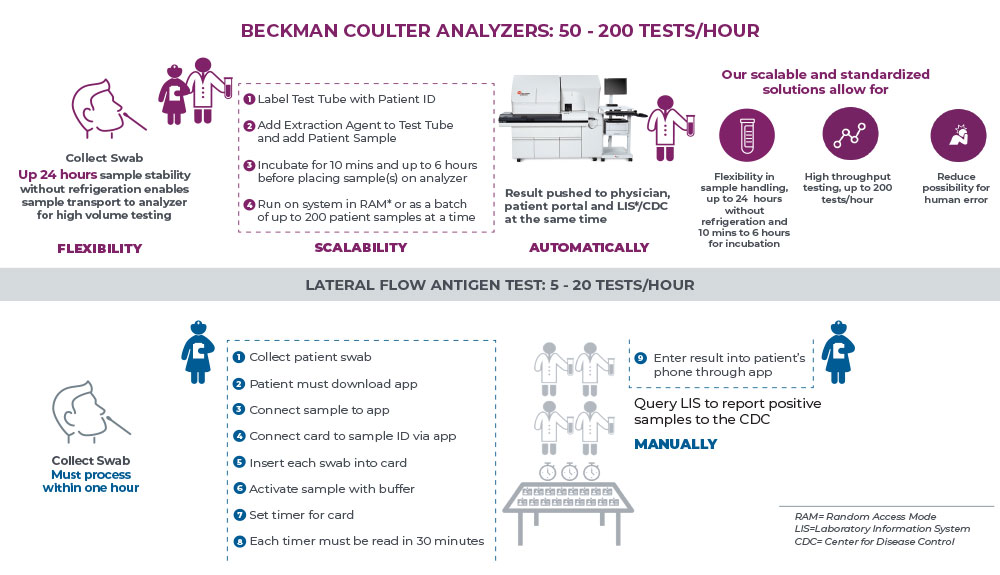 Beckman Coulter analyzers have the ability to process around five times more tests per hour when compared to lateral flow tests. Eliminate manual steps to process results and experience results being pushed to the physician, patient portal and the LIS/Center for Disease Control (CDC) simultaneously and automatically.
Take advantage of high throughput, scalable and standardized immunoassay testing and run up to 200 tests/hour versus running ~20 tests/hour with point-of-care tests.† By integrating our assays into automated workflow, your laboratory can experience:
Analyzers that offer one of the highest throughputs for immunoassay in the market, enabling your laboratory to run individual tests at RAM or large volumes up to 200 tests/hour
Systems that are scalable, accommodating even small work spaces with the Access 2 benchtop analyzer
Potentially fewer pre- and post-analytical errors
REMISOL Advance middleware provides patient results from both diagnostic and serology tests on one screen to help improve laboratory efficiency
Results that are pushed to the physician, patient portal and LIS/the CDC simultaneously and automatically