Antibody testing could be a vital tool for determining who has already been infected and might have immunity to the virus. Serology testing for SARS-CoV-2 is at increased demand in order to better quantify the number of cases of COVID-19, including those individuals who may be asymptomatic or have recovered.
The U.S. Food and Drug Administration (FDA) has said there are three use cases for serological tests:
They could one day help support decision making as to whether people can return to work
They could determine the people who may qualify for a vaccination once it is available
They could identify individuals who have recovered to see if they can donate plasma that may be used as a treatment for people with severe forms of the disease caused by the novel coronavirus
Accurate and Reliable Coronavirus Antibody Results That Clinicians Can Trust
The Access SARS-CoV-2 IgG antibody test features market-leading sensitivity and specificity. Sensitivity and specificity matter because tests without extremely high accuracy could lead to large numbers of incorrect results, potentially resulting in dangerous consequences.
Why add the Access coronavirus antibody test to your laboratory's test menu?
The Access SARS-CoV-2 IgG assay is being validated against 1,400 negative broad population-based samples—significantly more than the number of samples required by the FDA for Emergency Use Authorization
100% sensitivity‡ and 99.6% specificity—one of the highest dual rates for SARS-CoV-2 antibody tests in the market
Releasing a standalone SARS-CoV-2 IgG test and not a combined IgG-IgM may be more clinically informative
High Medical Value with Targeted Antibody Identification
To identify an immune response against the SARS-CoV-2 coronavirus, it is important to target the right antibodies.
The Access SARS-CoV-2 IgG assay is designed to target antibodies against the coronavirus spike protein that may be more likely to confer immunity.
Laboratory studies show that to identify an immune response against the SARS-CoV-2 coronavirus, it is important to target the right antibodies
The Access SARS-CoV-2 IgG assay detects antibodies to the RBD (Receptor Binding Domain) of the spike protein, which may be important for immunity, based on laboratory studies
In addition, studies show that antibodies against the RBD are neutralizing, which may indicate that these proteins are an effective measure of immunity when compared to antibodies against other SARS-CoV-2 viral proteins
Novel Coronavirus Structure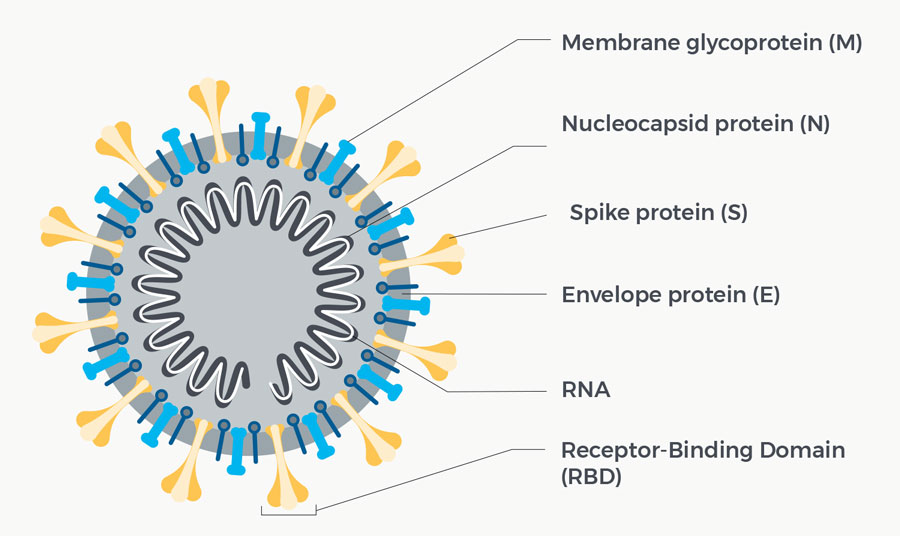 Figure 1. A coronavirus contains four structural proteins, including spike (S), envelope (E), membrane (M) and nucleocapsid (N) proteins.
Seamless Integration with Routine Lab Workflow
The Access SARS-CoV-2 IgG assay can be run in random access mode, seamlessly integrating into current laboratory workflow without the need for batching or special maintenance. This can help your laboratory experience industry-leading system uptime.
How else can the Access SARS-CoV-2 IgG assay empower your laboratory to fight the coronavirus pandemic?
Access SARS-CoV-2 test throughput on Beckman Coulter immunoassay and integrated systems leads the industry at up to 200 tests per hour depending on the analyzer used (up to 4,800 tests/day)
QC procedures only need to be run once every 24 hours, or as required by individual laboratory procedure, and the assay comes in 200 tests/kit, requiring less frequent ordering
REMISOL Advance middleware provides patient results from both diagnostic and serology tests on one screen to help improve laboratory efficiency