Once upon a time (about 80 years ago), there lived a fictious couple, Mr. and Mrs. X. One day, Mr. X fell ill with a virulent bacterial species. This was at the beginning of the Golden Age of Antibiotics, so luckily, he received penicillin. Mr. X took the penicillin until he started to feel better but then he stopped. Unfortunately, the virulent microbes left behind developed resistance to the penicillin. Fortunately, Mr. X's immune system was able to fight off the rest of the infection. Soon thereafter, Mrs. X fell ill with the now penicillin-resistant streptococci. Mrs. X also received penicillin, but because her infection was caused by the resistant microbe, the penicillin was ineffective. Sadly, Mrs. X died.1
Sir Alexander Fleming, the father of antibiotics, told this story of the dangers of antibiotic underdosage and antibiotic resistance as he received the Nobel Prize in Physiology or Medicine for "the discovery of penicillin and its curative effects in various infectious diseases,"2 which he shared with Dr. Ernst Chain and Sir Howard Flory in 1945.
What Is an Antibiotic?
Antibiotics—literally Against (anti) Life (biotic) are substances used to fight bacterial infections. The term, coined by Dr. Selman Waksman, was originally intended to describe those agents created by a living microorganism that destroyed another organism.3 More recently, antibiotics are defined simply as those agents that destroy bacteria.
There are two overarching categories of antibiotics: bacteriostatic and bactericidal. Bacteriostatic agents are those that reversibly inhibit growth of bacteria. By stopping the growth of bacterial cells, bacteriostatic agents provide time for the host immune system to destroy the infection. Most bacteriostatic agents function by interfering with bacterial protein synthesis.4 Because the protein synthesis machinery differs between bacterial cells and host cells, the host cells are not harmed by the antibiotic. Tetracycline and streptomycin are bacteriostatic. Conversely, bactericidal agents kill their target cells but do not harm the host cells. Penicillin and its derivatives are bactericidal.
How Do Bacteria Become Antibiotic Resistant?
Certain bacterial species such as Pseudomonas aeruginosa are naturally resistant to several antibiotics.5 Other species develop antibacterial resistance by obtaining genes encoding antibiotic resistance and still others through mutation.
Mutation
DNA mutations can affect the drug–target interaction by altering the receptor, protein, or enzyme targeted by the drug or by changing the bacterial surface to limit drug access. Mutations can occur spontaneously or through gene transfer.
Gene Transfer
There are several ways that bacteria exchange genetic material: transformation, conjugation, and transduction. In all of these, bacteria receive new genetic material.
Transformation occurs when bacteria take up pieces of DNA from their environment. In the laboratory, the cells are forced to take in genes. But there are several species, including Neisseria species, that are considered naturally competent for genetic transformation. Naked DNA is DNA that exists in the environment, usually from microbes that have burst. As its name implies, naked DNA is not protected by any proteins or other molecules. Plasmids and other mobile genetic elements (MGE) are DNA elements that often encode antibiotic resistance genes.6 MGEs are easily transferred from one microbe to another—sometimes across species. Neisseria spp. can uptake naked, fragmented DNA from their environment. If this DNA contains a gene(s) for antibiotic resistance, the transformed bacteria become resistant to that antibiotic.7
Conjugation is the horizontal transfer of genetic materials between bacterial cells by cell-to-cell contact. The MGEs that mediate conjugation, usually plasmids, encode genes necessary for conjugation to occur. If a drug-resistance gene is also on the MGE, the recipient cell becomes resistant to the antibiotic as well. Conjugation is considered one of the main ways that bacteria become antibiotic resistant.8,9
Transduction is transfer of genetic material by a bacteriophage, a virus that specifically infects bacteria. The virus incorporates a piece of bacterial host DNA instead of viral DNA. When the viruses are released from the bacterial cell and go to infect a new cell, this bacterial-DNA-containing virus transfers the bacterial DNA to the new cell. If that piece of DNA contained a resistance gene, the new cell becomes resistant to the antibiotic.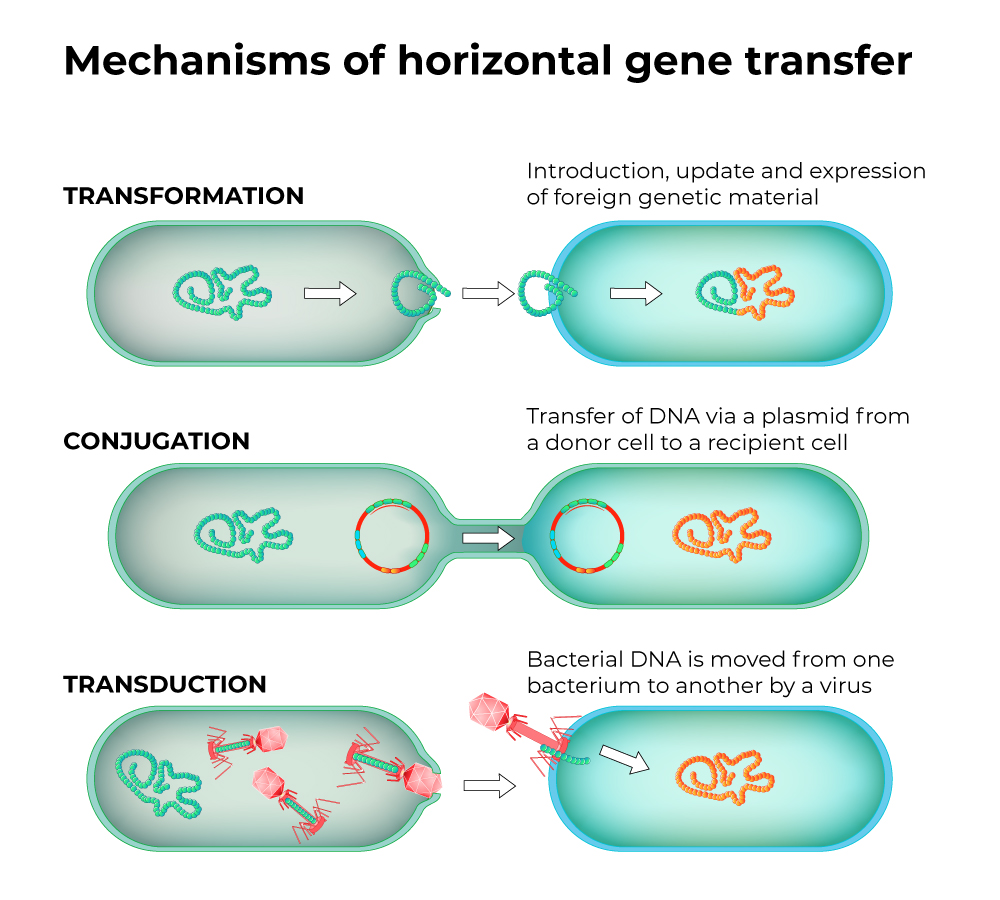 Antibiotic resistance generally arises when bacterial cells:11
Express genes encoding pumps that actively remove select antibiotics
Modify the cellular membrane so that antibiotics can't penetrate
Encode enzymes that destroy the antibiotics
Alter cellular pathways to circumvent the antibiotic's target
Selective Pressure
Selective pressure is an external force that causes a given phenotype to thrive in certain environmental conditions. Antibiotics cause selective pressure by killing susceptible bacteria and leaving behind the resistant ones. For example, a bacterial cell that has only one copy of an MGE may be slightly resistant to a given antibiotic. If that cell is exposed to a low level of antibiotic, it will increase the MGE copy and thus increase its resistance. Bacteria not containing the MGE will die, and bacteria with the MGE will multiply. The population of bacteria then becomes entirely resistant and harder to treat.12
How Does the Misuse of Antibiotics Lead to Resistance?
Although studies on antimicrobial stewardship go back to the 1990s,13 it wasn't until 2014 that the U.S. Centers for Disease Control and Prevention (CDC) requested that hospitals in the U.S. start antibiotic stewardship programs to decrease the spread of nosocomial (hospital-acquired) infections.14 Of course, hospitalized patients, especially those on surgical, hematology/oncology, burn, and transplant units,15 may require heavier antibiotic use. Regardless of unit, the close proximity of patients "creates a fertile environment for the spread of antimicrobial-resistant germs."12 The most commonly identified bacterial causes of nosocomial infections are caused by Acinetobacter baumannii, Burkholderia cepacia complex, Clostridioides difficile, Clostridium sordellii, carbapenem-resistant Enterobacteriaceae, vancomycin-resistant Enterococci (VRE), P. aeruginosa, and Mycobacterium tuberculosis.15,16 Staphylococcus aureus also presents a persistent issue with strains that are methicillin-resistant (MRSA), vancomycin-intermediate (VISA), and vancomycin-resistant (VRSA).15,16
While the need to use antibiotics in a hospital setting seems obvious, globally, ~70% of antibiotics are sold for use in agriculture.17 That number rises to 80% for U.S. agriculture.18 Historically, antimicrobials have been used as growth promoters for livestock17,19,20 and to prevent diseases amongst animals in less than desirable living conditions.20,21 This practice has been shown to increase the development of superbugs—strains of microbes resistant to most drugs used for treating infections. Use of antibiotics in agriculture raises the risk that humans will be infected by microbes that infect both the animal and the human, by microbes that cross species, or by microbes that have become antibiotic resistant due to some form of gene transfer.22 Multi-drug resistant microbes have been recovered downwind of farm facilities, which may put those living near these locations at higher risk for developing drug resistant infections.20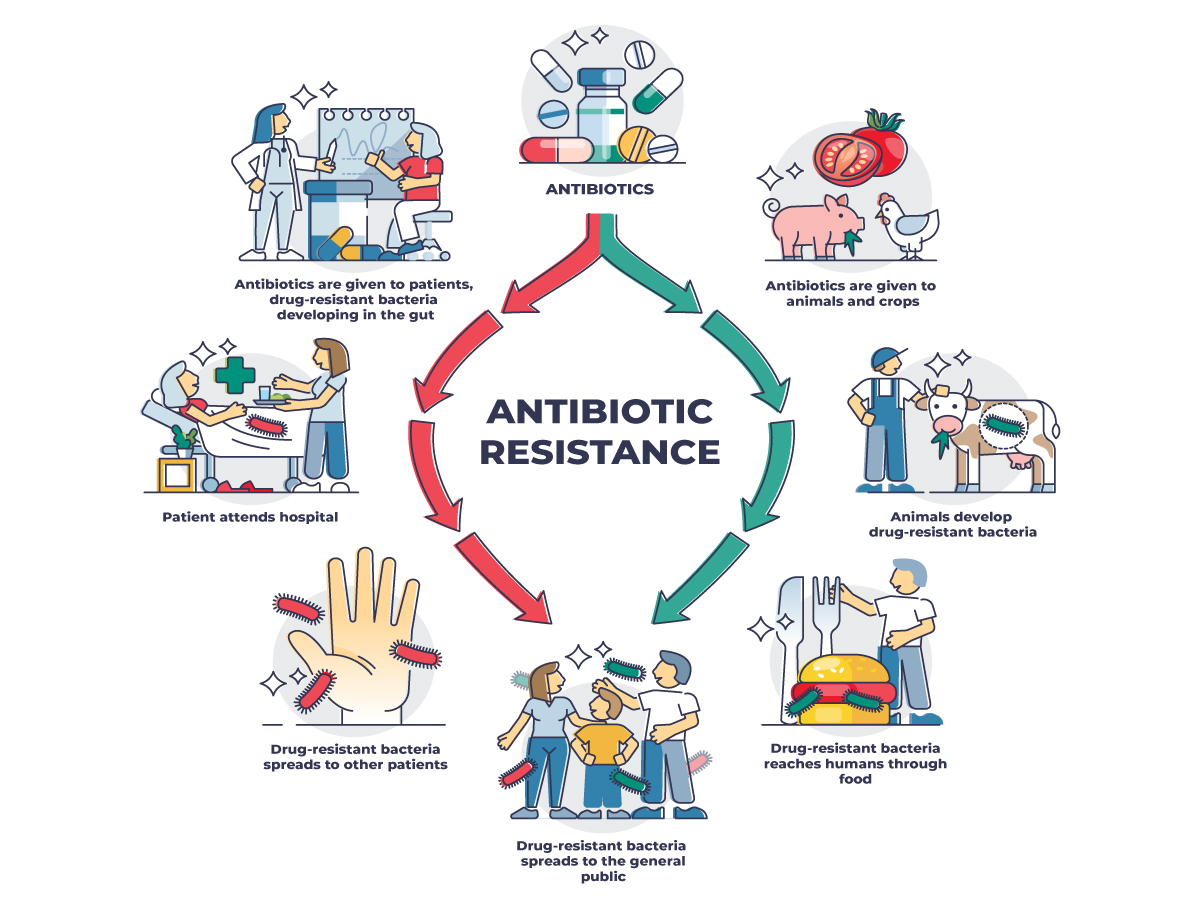 Antibiotic resistance is a serious threat that can lead to significant mortality.23 In 2019, the U.S. CDC attributed more than 144,000 yearly deaths to antibiotic resistance, and that number is expected to rise.24 To avoid the fate of Mrs. X, we must heed Fleming's warning: "The time may come when penicillin can be bought by anyone in the shops. Then there is the danger that the ignorant man may easily underdose himself and by exposing his microbes to non-lethal quantities of the drug make them resistant." We, like Fleming, "hope this evil can be averted."
This World AMR Awareness Week, we stand together with scientists, clinicians, and laboratorians around the globe who are working to develop new antimicrobials and preserve the effectiveness of existing antibiotics. Download the 2024 forecast of antimicrobial-resistance profiles and combination therapy options to guide new considerations for treating evolving infections.