PROTEIN CHEMISTRY ANALYZERS
Supporting Disease Diagnosis and Monitoring
Laboratories seek solutions that optimize and increase efficiency to advance patient care. Our protein chemistry analyzers combine the high performance needed to deliver fast, accurate results with the flexibility to accommodate a broad spectrum of laboratory preferences. Today, laboratories can:
Test with confidence. Benefit from our long history of providing sensitive, precise nephelometric and turbidimetric protein assays for our advanced, reliable analyzers
Choose the right option. Select a dedicated protein analyzer or consolidate testing on a high-throughput, single analyzer
Manage a range of diseases. Choose from an extensive protein menu of nephelometric and turbidimetric protein assays
Evolve with innovation. Take advantage of our continuous development of both nephelometric and turbidimetric protein assays, including Cystatin C/Urinary CSF Protein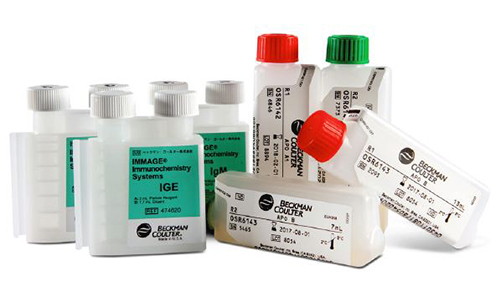 Protein Chemistry Menu by Platform
Deliver cost-effective, fast and precise results for a wide range of protein quantitation requirements within your laboratory. Explore an extensive menu of nephelometric and turbidimetric protein assays for our advanced clinical chemistry analyzers.
Download
Two Analyzer Platforms for Comprehensive Protein Testing
Our comprehensive protein chemistry menu is available for use on two analyzer platforms: the IMMAGE 800 and AU clinical chemistry analyzers. Both platforms are designed to meet your patients' protein-testing needs in a manner that promotes laboratory efficiency and cost-effectiveness.

IMMAGE 800
The IMMAGE 800 analyzer's kinetic nephelometry system precisely measures protein concentration within a sample the instant a reagent is added to the solution.

It also offers a broad test menu for users to accurately observe the constant rate of change associated with a wide range of reagents. A user-defined reagent capability provides additional flexibility to add and run chemistries not on the current system menu.

Clinical Chemistry Analyzers
The comprehensive family of AU clinical chemistry analyzers provide maximized uptime, scalability and efficient use of consumables.

AU analyzers offer an extensive selection of over 125 assays.* This includes a comprehensive menu of protein assays based on immuno-turbidimetric methodology, which produces accurate and rapid results.
*Not all assays available in all countries. Please check with your Beckman Coulter representative for availability.