Antibody testing may be a vital tool for determining who has developed an immune response to SARS-Cov-21 thus allowing to better quantify the number of cases of COVID-19, including those that may be asymptomatic or have recovered.2
The U.S. Food and Drug Administration has said there are multiple use cases for serological tests:3
They could help decide whether people who are found to be immune can return to work
They could determine the people who may qualify for a vaccination once it is available
They could identify people who have recovered to see if they can donate plasma that may be used as a treatment for people with severe forms of the disease caused by the novel coronavirus
What is serology testing?
A serology test detects the presence of antibodies, which are specific proteins called immunoglobulins made by the body in response to infections. The body makes different types of immunoglobulins to fight different types of infections. This means that an antibody for chickenpox, for example, will not be the same for SARS-CoV-2.
Serology testing for SARS-CoV-2
In response to the coronavirus, manufacturers are producing tests to measure different types of SARS-CoV-2 antibodies, mainly immunoglobulin M (IgM) and immunoglobulin G (IgG). (Figure 1.)
How IgG and IgM Antibody Tests Work

Figure 1. An antibody test works by detecting immune response to earlier infection.4
IgG can be detected approximately two weeks after infection and is the type of antibody that is responsible for longer term immunity (months to years). However, researchers know very little about the immune response to SARS-CoV-2 at this time, including the degree of immunity to reinfection that may be afforded by antibodies. IgM is the first line of defense against an infection and can be detected approximately four to seven days after infection. However, it is not sustained and IgM production decreases after the onset of IgG production. There is a short window where both IgM and IgG can be detected.
How an ELISA Assay Works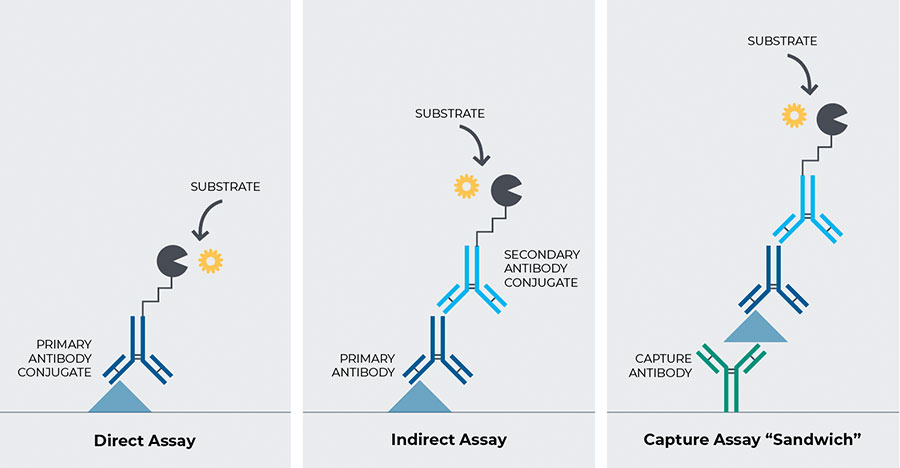 Figure 2. An ELISA assay works by attracting an antigen to a substrate. The antibody to the antigen is linked to an enzyme, which is then measured.5
The benefits of serology testing for SARS-CoV-2
By integrating SARS-CoV-2 antibody testing into their routine laboratory workflow, laboratories of all sizes may be able to:
help reduce pressure on healthcare resources by identifying individuals who have potentially developed an immune response to SARS-CoV-2, so critical patients and patients at risk can get the care they need
mitigate shortage in the workforce by allowing those who have developed an immune response to safely return to work
help free healthcare system capacity for those who need most assistance by identifying patients who have developed an immune response
determine how much of the population has been exposed to help navigate the possibility of rolling reopening, need for vaccination and future disease management
The caveat is that the serology test used must be a high-quality test with the highest sensitivity and specificity, tested in a broad-based population.
What makes a SARS CoV-2 antibody test high quality?