Antipsychotic drug monitoring (TDM)
While the road to acceptable and useful antipsychotic medications was long and painful, today, there are many therapeutics available to treat a wide array of mental illnesses. With more than 14 million adults in the U.S. alone experiencing SMI,1 having rapid, low cost and reliable tests to accurately measure blood levels of antipsychotic drugs to understand compliance and manage therapy is paramount for health care providers.
Therapeutic drug monitoring (TDM) has long been used to help clinicians monitor drug levels2 and is used for everything from antibiotics to seizure medications. TDM, a clinical lab measurement of specific drug concentrations in a patient's bloodstream, is used to assess the efficacy of certain medications and ensure that these concentrations are not reaching toxic levels.3 Recently, there has been more support for TDM in the medical community4 as a mechanism to understand both compliance and metabolic adverse effects such as lipid abnormalities, changes in glucose metabolism, weight gain, hypercholesterolemia, type 2 diabetes and diabetic coma.5 TDM supports tailoring dosing for individual patients, so it can be used to help monitor compliance and as a guide for adjusting dosage to bring the best benefit.6 Thus, the goal of TDM is to identify the therapeutic drug range, the concentration of medication where the patient receives the most effective dose of the medication with the fewest side effects7, to best manage patient therapy.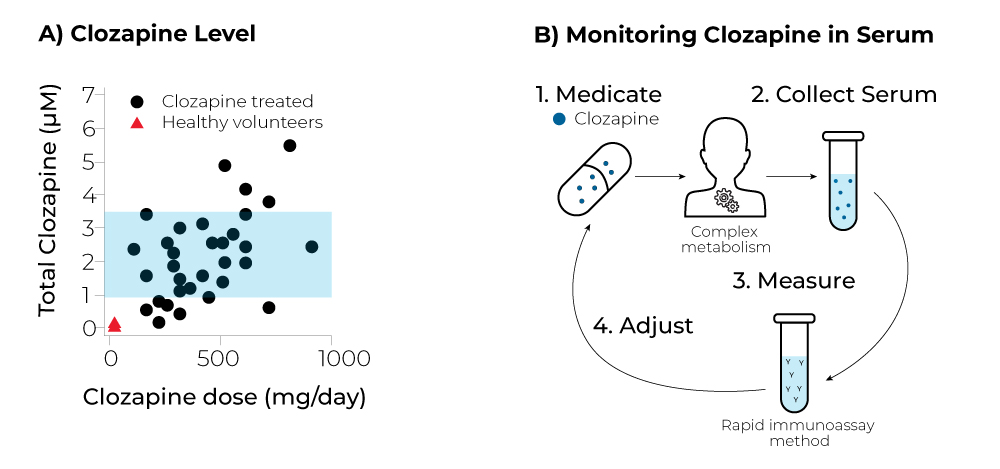 A) Clozapine is challenging to monitor because it is active a low concentrations with narrow therapeutic window (1–3 μM), and it is difficult to control serum levels by dosage because of significant variabilities in its metabolism.3
B) Achieving the greatest benefit from clozapine requires following the AGNP medicate, measure, and adjust guidelines.4
The importance of clozapine monitoring
Antipsychotic medications are used to manage psychosis and other psychotic disorders, which bring about their own unique challenges when it comes to drug monitoring. As with general TDM, antipsychotic drug monitoring (ADM) is necessary to understand whether and how antipsychotic medications are working to reduce psychotic symptoms. Rapid monitoring of antipsychotic blood levels is important for several reasons. First, while these medications can greatly help patients with psychiatric disorders, they are not without potential side effects. First-generation, typical antipsychotics have been shown to bind tightly to dopamine8, which may be involved in the drug-induced movement disorders associated with these older drugs.9 And both first-and second-generation antipsychotics are associated with weight gain and even the potential for cardiac involvement and seizure.5 Second, ADM can ensure that patients are actually taking their medication. In addition to adverse side effects, there are many reasons that patients stop taking antipsychotics, including either a lack of improvement of symptoms or improvement of symptoms.10 One of the most common assessments of medication status, patient self-reporting, is frequently misleading and can lead to under- and over prescription.11 ADM ensures that the patient self-report is reliable and that the amount of medicine in the blood is both safe and effective. Finally, ADM results can be used to change medication or medication levels, which in turn can decrease the intensity and frequency of psychotic symptoms. ADM ensures that patients are getting the greatest possible benefit from these life-saving interventions.
How can Beckman Coulter help?
At Beckman Coulter, we are committed to elevating our therapeutic drug monitoring menu to support clinicians in aiding, monitoring and treating patients with serious mental illnesses. We recognize the need for healthcare providers to be equipped with quantitative insights to manage patient therapy. Learn more about our partnership with Saladax and how we're addressing a significant, unmet need by providing rapid, low-cost and accurate antipsychotic drug blood level monitoring assays.
Serious mental illness may be accompanied to do self-harm. If you or someone you know is considering self-harm or having a mental health crisis, please contact the Suicide and Crisis Lifeline at 988 or suicidepreventionlifeline.org