As the world was thrusted into a global pandemic at the start of 2020, the impact has been broad and far reaching. Hospitals, clinics, laboratories and research facilities globally have faced the brunt of it.
There has never been a better time for labs to run as smoothly and efficiently as possible, whether their work deals with the COVID-19 pandemic or other pressing diagnoses that rely on lab results.
During this time, how can labs prevent downtime and what lessons can be learned from this experience so that they can be better prepared in the future?
Let's explore the answer to these questions to see how your lab can reach its optimal efficiency.
What is Laboratory Downtime?
Laboratory downtime is the time during which an instrument or system is not functioning properly or is otherwise unavailable to users. Downtime can be either planned or unplanned.
Planned downtime is when instruments are down for scheduled maintenance, system updates, patches, or software upgrades. On the other hand, unplanned downtime is when instruments are down due to system or environmental failures.
According to Frost and Sullivan Market research, 73% of laboratorians identified unplanned downtime as one of the top factors limiting their lab's productivity and 67% of laboratorians found instrument maintenance and downtime as a top five challenge. (1)
The High Cost of Unplanned Downtime
Along with slowing down labs when the timing of results is crucial, research shows that there are high costs associated with unplanned downtime.
According to findings of the 2016 Ponemon Institute study, healthcare facilities face an average cost of $740,357 per downtime incident. Out of 15 industry sectors covered in the report, healthcare saw the third highest costs. (2)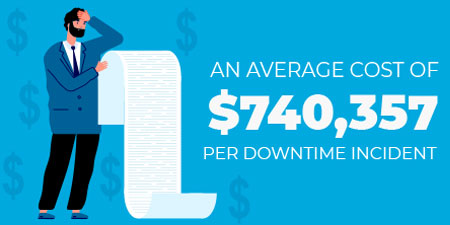 Often, the cost of a routine maintenance plan is less than the cost of unplanned downtime. This was the case at Gwinnett Medical Center in Lawrenceville, Georgia.
The hospital lab at the 1,638- bed medical center was under pressure to improve TAT with a growing workload. There, they found that maintenance was consuming resources which could be reallocated to activities that would create more value for the lab.
By performing routine maintenance, the hospital lab was able to reduce unplanned downtime up to 78% which translated to a potential savings of 116 hours annually per instrument specific to their lab. (3)
Impact on Patient Care
In the current global pandemic where there are greater testing demands, unplanned downtime can lead to inconsistent turnaround time, slowing intervention and creating further stress on the healthcare system.
Not only are there increased healthcare expenses related to downtime, when a laboratory instrument goes down unexpectedly, doctors and patients may lose valuable time while waiting for life-saving answers.
And this is crucial when every second counts in advancing patient care.
"When an instrument goes down unexpectedly, doctors and patients cannot move forward with confidence," Michelle Shen, Global Marketing at Beckman Coulter explained. "That means every second we lose in the laboratory can lead to delays in diagnosis and monitoring and impact on quality of care."
Research shows that better turnaround time also improves patient satisfaction. When turnaround time is at its best, patient satisfaction scores can increase from 87% to 95%. (4)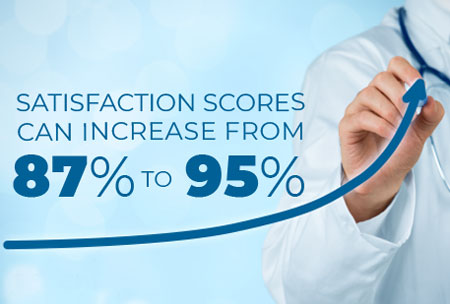 Service teams with specialized knowledge of your specific laboratory equipment are essential in minimizing downtime, driving operational efficiency, increasing system reliability and optimizing laboratory performance.
Speaking about her own specialized field teams, Shen said, "We have the geographic scale to allow us an on-site response that matches the urgency expectations of our customers. Our field teams are a part of the communities they service – they share the sense of pride our customers have in providing excellence in patient care."
How Can You Mitigate Risks to Unplanned Downtime?
All laboratories with instrumentation and software applications will experience downtime. An effective way to avoid unplanned downtime would be through routine preventative maintenance or back-ups that are performed at established intervals, often on a daily, monthly or on a quarterly basis.
Scheduling regular preventive maintenance maximizes uptime, extends the useful life of your instruments and increases the accuracy of your results.
You may already have key ways to mitigate the risks of downtime in place, for example, your system users should have received training when the system was installed, and they should receive regular training on downtime procedures on a quarterly basis.
New employees should be trained on downtime procedures as part of their system training during onboarding, and all users should receive refresher training on a regular basis as well.
These are common practices that most laboratories already have in place, however, there are other ways that laboratory leaders can go even further to prevent unplanned downtime. Let's look at some of them below
5 Tips to Prevent Unplanned Downtime in the Lab
Collaborate with your service provider to:
Customize a proactive and predictive service solution tailored to your laboratory
Resolve challenges with a shared sense of urgency
Foster a culture of continuous improvement and support staff training
Leverage informatics including remote monitoring systems and value-added services
Ensure planned maintenances, including customer maintenance and preventative maintenance, are performed as recommended and by professionals that know their instruments
Maximizing Uptime with Proactive Maintenance
Sometimes you may not realize the true value of planned maintenance until you encounter a problem.
Every diagnostic and clinical laboratory faces unique challenges. With the right service and support, your laboratory can be equipped to maximize uptime and get on the path to success.
Minimize the risk of unplanned downtime by showing you proactive ways to identify problems before they occur.
Here are some proactive ways to identify problems before they occur in the laboratory:
Have a back-up instrument
Build in redundancies to minimize the risk of going dark
Implement risk management and outline the necessary steps to detect errors
Monitor trends and identify potential issues before they impact your laboratory
Perform scheduled customer maintenance and regularly replace consumables and parts
Take advantage of proactive checks during service visits to enhance reliability and improve laboratory performance
By taking measures to prevent unplanned downtime in the lab, you will ultimately increase confidence in laboratory performance by leveraging the data already in your lab, you will maximize instrument up-time and optimize laboratory performance and workflow.
You will also achieve fast and consistent turnaround time through greater operational efficiency so you and your staff can focus on adding value to patient outcomes and the care continuum.
"Utilizing service teams to ensure that vital instruments are up, and running is paramount during the current pandemic," Shen noted. "Every moment matters because behind every test there is a patient waiting for an answer that could change his or her life."
Learn more about how an integrated approach can save you time and money while improving your team's access to data and patient outcomes.