Most people dread having to make a phone call for technical support no matter the situation. You have no idea who will pick up on the other end. When it comes to your laboratory's downed instruments, the stakes are even higher. You just want to get the help you need quickly. Beckman Coulter's Customer Technical Support (CTS) team is ready and prepared to help labs solve technical issues because they understand that with patient care every second counts. In a series of blogs, we'll spotlight a few members of CTS so that you can put a face behind the voice on the other line.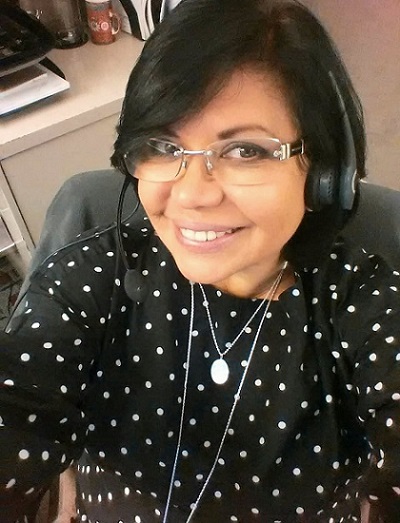 Claudia Berthin has been working with the CTS team at Beckman Coulter for over seven years. By training, she is a medical lab technologist and has 32 years of experience in the field.
Claudia takes care of customers over the telephone through the call center when their instrument is down whether they are working in a hospital, a lab or a doctor's office. She uses tools to guide customers through their technical difficulties. If it's an issue she's unable to resolve, she consults with other departments to get the information they need.
She spent her early career as a forensic toxicologist for a private lab in Miami, FL. where she conducted drug testing for the police department. She has also worked as a medical technologist in hematology, coagulation, chemistry, and urinalysis.
For Claudia, her background often takes over in her day-to-day work, and she realizes the importance of timeliness when it comes to getting an instrument up and running because it has a direct impact on patient care and results.
"Having a med tech background, I've been there, I understand what techs go through in the lab, so I do everything I can to expedite the process and get the instrument up and working correctly," Claudia explained. "It's not only that an instrument is not working — it's that often you are working with people in the emergency room in a hospital, and they are relying on the correct results — because somebody's life depends on it."
The most exciting, and often challenging, part of Claudia's job is that she never knows what the next call is going to be about. She must be flexible and able to adapt to resolve whatever challenges a customer may be facing.
"We're the first team to respond when the customers have an issue, sometimes it's not relating to the instrument itself, sometimes it's relating to questions about applications, sales, removing analyzers, moving analyzers, regulatory agency questions and more," Claudia explained. "We have to be prepared to respond to a variety of issues to help the customer."
Getting instruments up and running as quickly as possible is thrilling for Claudia. Once she received a weekend call from a busy hospital in Michigan. Both hematology analyzers in the lab were down, and it was critical that they get back online.
Claudia remoted into the instruments using PROService and was able to get both analyzers working. On Monday morning she received a beautiful email from her supervisor saying that the lab manager reached out to let him know how appreciative he was that she was able to get the analyzers up and running on an extremely difficult day at the hospital.
"Experiences like these motivate and move me because sometimes you do things and you don't realize how much of an impact it has on other people's lives," Claudia said.
It makes her day every time she can remote-in to fix an analyzer or walk a customer through a technical problem.
At the end of the day, it's a patient waiting for a result that could change his or her life and having the right technical support when you need it is critical in running a smooth and efficient laboratory.
Claudia is just one of the people you may meet "on the line" when calling into Beckman Coulter's Customer Technical Support Team. Be sure to read our other CTS spotlights if you missed them and stay tuned for future opportunities to meet your team champions.
Learn how to optimize your lab's performance with one of our DxS service packages.