There is a large unmet clinical need for the early detection of sepsis in patients having or developing sepsis. The detection and treatment of sepsis is frequently delayed, and earlier administration of sepsis-specific treatments, particularly antibiotics, are associated with improved clinical outcomes, including significantly reduced mortality. Lack of sepsis recognition is one of the common causes of its misdiagnosis and contributes to adverse outcomes due to delays in definitive antimicrobial treatments.
What is Monocyte Distribution Width?
Monocyte Distribution Width (MDW) is an in vitro diagnostic parameter that reflects a change in circulating monocytes volume in response to pro-inflammatory signals from infectious organisms referred to as pathogen-associated molecular patterns (PAMPs).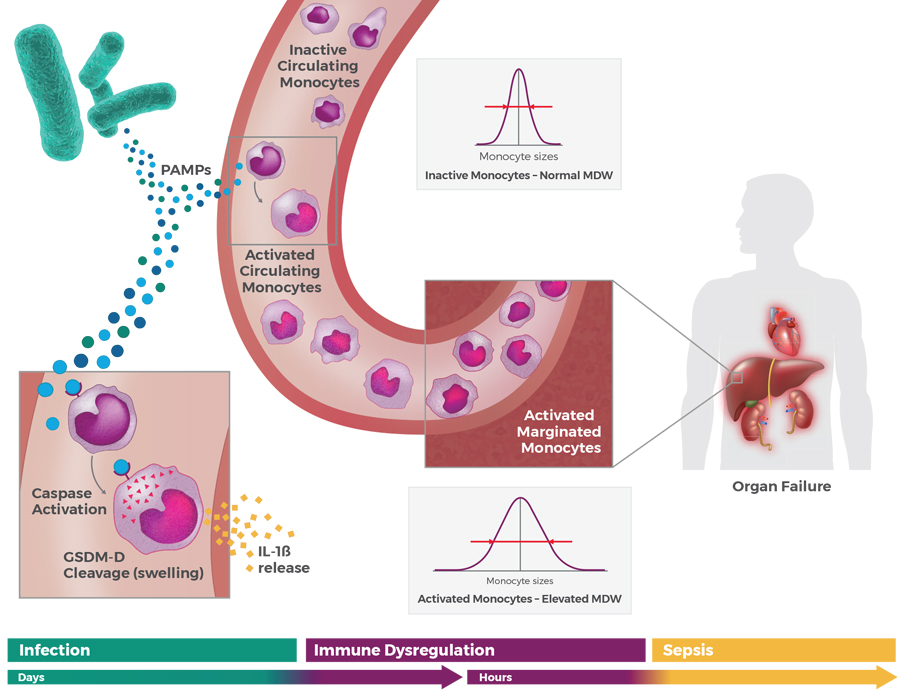 Figure 1. The Etiology of Sepsis.
What Analytical Systems Can Provide MDW?
The DxH 900 and DxH 690T hematology analyzers are capable of automatically reporting the MDW parameter as a part of the complete blood count (CBC) with white blood cell (WBC) differential hematology analysis from whole blood venous samples.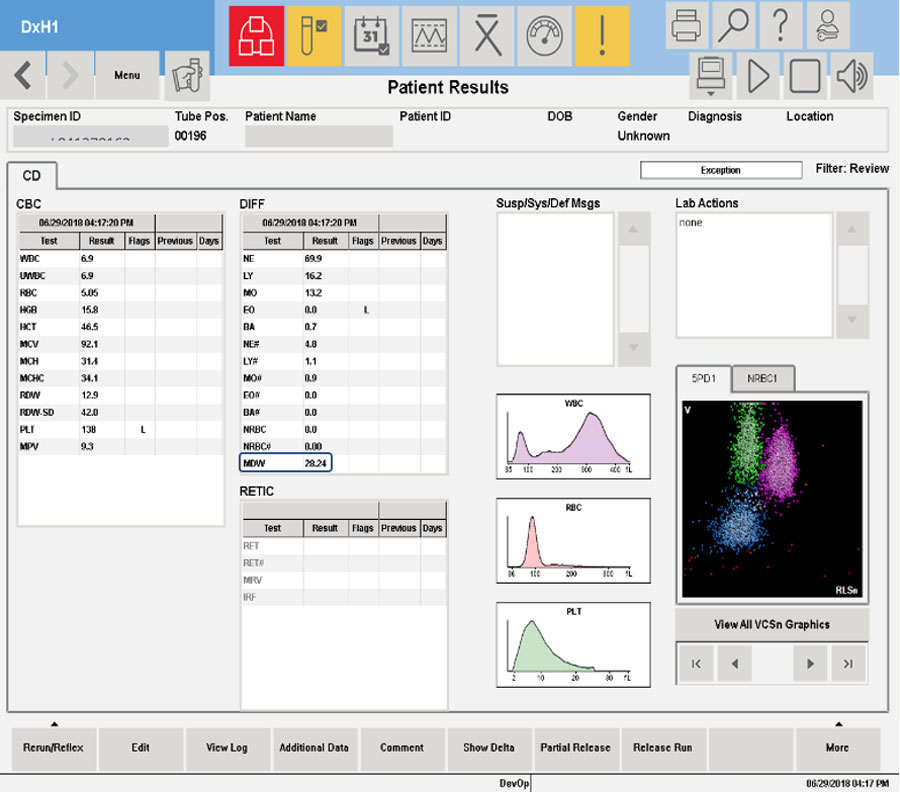 Figure 2. Hematology analyzer reporting MDW parameter.
What is the Intended Use of the MDW Parameter?
The FDA-cleared MDW in-vitro diagnostic (IVD) parameter is intended for use with adult patients presenting to the emergency department, where a CBC with differential has been ordered, as an aid in the early detection of patients with or developing sepsis. Together with other laboratory findings and clinical assessments, it provides a qualitative assessment of sepsis from whole blood venous samples.
Moreover, the results are automatically available as part of CBC-Diff results for adult patients entering the emergency department with no impact to laboratory or emergency department workflow with no additional tests to order.
How is the MDW Parameter Measured?
The DxH 900 and DxH 690T Beckman Coulter hematology analyzers utilize the proprietary VCSn technology to characterize the WBC in their near-native state and separate different types of WBC in order to generate a 5-part differential (neutrophils, eosinophils, monocytes, lymphocytes and basophils).
Through these measurements, the system gathers information about each of the WBC populations including the mean and standard deviation for each of these measurements referred to as cell morphometric parameters (formerly known as cell population data, CPD).
Monocytes and neutrophils represent the first line response during an infection by pathogens. The accompanying inflammatory process may result in their activation and ultimately morphological and functional changes.
These morphological changes, even the slight ones, are detected by the proprietary near-native state characterization capability.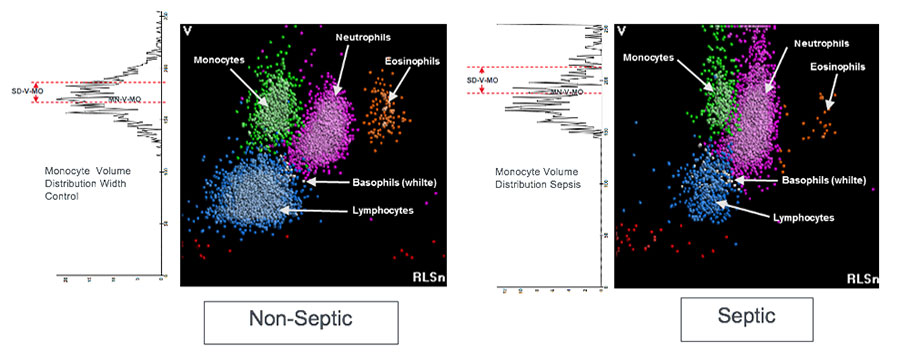 Figure 3. Effect of sepsis on monocyte size. Note the new large cells in the size plot (ringed). Crouser et al 2017.
Why Should Clinicians Use It?
There is a large unmet clinical need for the early detection of patients having or developing sepsis.
Emergency departments have initiated measures to detect sepsis as early as possible, but a reliable biomarker of sepsis is lacking.
Existing biomarkers of sepsis such as procalcitonin (PCT) and lactate are ordered only if the clinician already has a high index of clinical suspicion of sepsis. Most critical unmet needs are the identification and alert of sepsis (when the physician does not suspect it), and the discrimination of sepsis from SIRS.
Are There Other Potential Clinical Applications for MDW?
Several recent studies published in peer-reviewed scientific articles, suggest other interesting clinical applications for MDW.
See the new analysis from a pivotal study that show that patients with abnormal values of MDW biomarker at presentation have increased odds of sepsis.