Company ready to support the $12 billion expansion in COVID-19 testing as vaccinations increase
Company able to support testing for schools and underserved congregate settings, directly through existing and new coordinating centers by supplying 25 million tests per month
The test is specifically designed to support high-throughput automated testing screening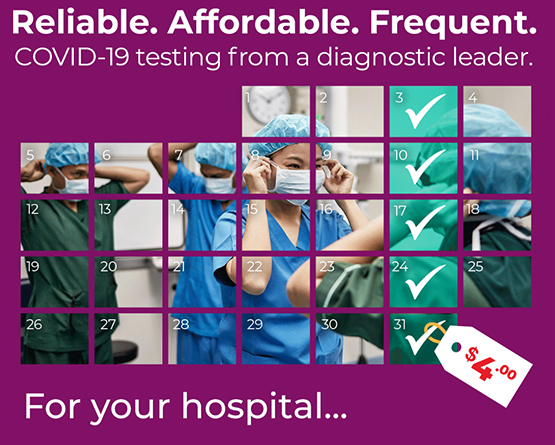 BREA, CALIF., MAR. 18, 2021
—Beckman Coulter, a clinical diagnostics leader, today announced their commitment to support the U.S. government's plan to invest more than $12 billion to expand COVID-19 testing with their high-throughput, high-quality lab antigen test, Access SARS-CoV-2 Ag*, ideal for mass screening testing.
Beckman Coulter announced in December that their $4 antigen test will be available to all customers and has a confirmed 93% positive predictive agreement (PPA) and 100% negative predictive agreement (NPA). Results can be delivered in as little as 30 minutes on Beckman Coulter's immunoassay analyzers, including the DxI 800 high-throughput analyzer that can process up to 200 samples every 60 minutes.
"We support the U.S. government's goal to expand screening because this is the right way to open up our schools, our economy and get people back to work in tandem with the massive vaccination drive that is underway," said Julie Sawyer Montgomery, president of Beckman Coulter Diagnostics. "The key to saving lives while vaccines are being put into arms is still masking, social distancing, regular testing, tracing and isolation. Our antigen assay makes the regular testing part of this equation a reality by enabling institutions and communities to implement low-cost, frequent, mass COVID-19 testing with automation, ease of handling and speed to enable scalability."
Beckman Coulter's antigen test can be used for testing in high-risk settings, such as nursing homes, hospitals, universities and other group settings where repeat testing, coupled with relevant clinical information, could identify those with a SARS-CoV-2 infection to minimize transmission
i
.