The availability of an International Standard (IS) for antibodies facilitates the standardization of SARS-CoV-2 serological methods
Access SARS-CoV-2 IgG (1st IS) measures the quantity of antibodies so physicians can determine an individual's COVID-19 antibody immune response and aids in the monitoring of patients who were previously diagnosed.
High-quality test has a PPA ≥15 days post-symptom onset of 100% and NPA of 99.8% and delivers results traceable to 1st WHO International Standard for anti-SARS-CoV-2, 20/136
Available to all customers in countries accepting the CE mark and to customers throughout the U.S. and Puerto Rico under FDA Policy D
BREA, CALIF., MAY. 19, 2021
— Beckman Coulter, a global clinical diagnostics leader, today announced the launch of Access SARS-CoV-2 IgG (1st IS), a fully-quantitative lab-based Immunoglobulin G (IgG) serology test that measures the quantity of antibodies against the virus that causes COVID-19. The newest addition to its suite of COVID-19 solutions, this high-quality assay is traceable to the 1st WHO International Standard for anti-SARS-CoV-2, 20/136 and reports results directly aligned with BAU/mL (Binding Antibody Units) established by the World Health Organization. As the pandemic continues its global assault, serology testing is emerging as a test with public health and clinical utility for monitoring and responding to the COVID-19 pandemic and caring for patients
1
.
"Serology testing has wide-ranging clinical utility. For example, according to the CDC, antibody testing may be useful to provide evidence of a previous COVID-19 infection," said Shamiram R. Feinglass, M.D., MPH, chief medical officer for Danaher Diagnostics and Life Sciences. "With a quantitative assay such as the IgG (1st IS), physicians can now compare results to a standard and look across populations."
The Clinical Utility of COVID-19 Serology Testing
Beckman Coulter launched its first COVID-19 IgG and IgM tests in 2020 during the initial outbreak. The tests were designed to qualitatively detect antibodies produced against the spike protein of the SARS-CoV-2 virus. Following the launch, the company delivered highly accurate IgG and IgM tests to provide reliable information for both individual health decisions as well as population-based monitoring.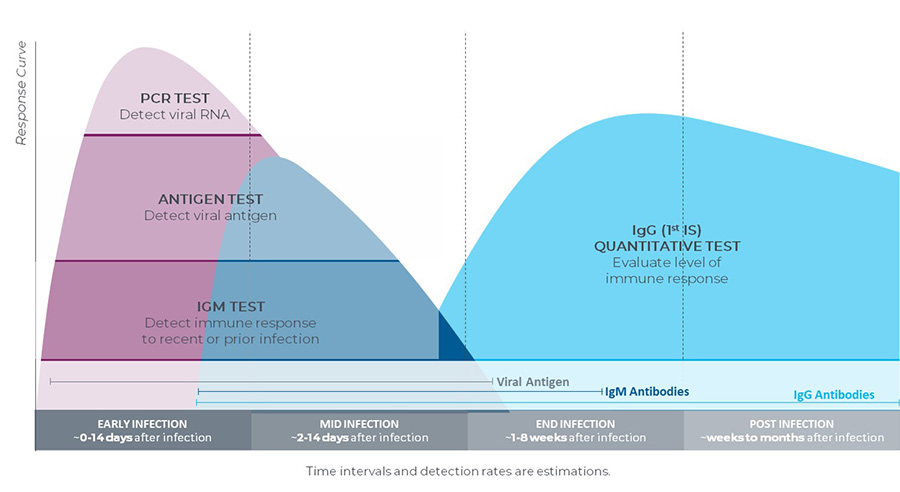 A menu that matters in the fight against COVID-19. Graphic developed with supporting evidence
(Source: Guglielmi, G. (2020). Fast coronavirus tests: what they can and can't do. Nature, 585(7826), 496–498.)