Low-volume Lab Streamlines Workflow and Decreases TAT Using Cloud-based Middleware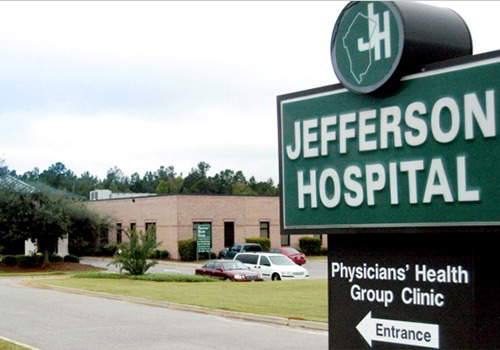 Executive Summary
Jefferson Hospital acute-care facility wanted to achieve greater efficiency and consistency in its processes through automation. The DxONE Workflow Manager cloud-based middleware solution addressed its needs, giving the hospital a solution that was easy to implement and would cause minimal disruption to laboratory operations. With DxONE Workflow Manager, Jefferson Hospital was able to streamline workflow to improve efficiency, reduce staff time spent on routine tasks and deliver patient results fast.
Profile
Jefferson Hospital, in Louisville, Georgia, is a 37-bed acute-care facility. The hospital processes approximately 140 samples per day to support primary medical and surgical care. Ninety percent of patients come from the Jefferson County area.
Challenge: The facility's goals included improving TAT for quicker response to physicians, gaining the ability to deal with resource constraints and decreasing the need for manual results validation. Jefferson Hospital knew these goals could be accomplished with the support of better informatics. However, any informatics solution would need to fit their budget and limited IT infrastructure.
Solution
Two DxC 700 AU chemistry analyzers
One DxI 600 immunoassay analyzer
One DxH 600 hematology analyzer
One DxONE Workflow Manager cloud-based middleware
3,000-tube stockyard
Results: The cloud-based DxONE Workflow Manager middleware solution enabled the hospital to:
Decrease TAT by 27%
Gain efficiency savings that equated to 3/4 of an FTE
Achieve an 82% autoverification rate
We are thrilled that our lab is able to autoverify. This saves a ton of time when we have only one person or are short staffed. With DxONE Workflow Manager, it's as if we have an extra person working.
Ali Cooper
Lab Manager
JEFFERSON Health
Transformation
Jefferson Hospital was faced with the same pressures as many of today's low-volume laboratories. It needed to deliver accurate results with faster TATs, while managing resources and workloads. Often, barriers exist for low-volume laboratories seeking informatics solutions, namely costs and limitations in IT systems. The new, first-of-its-kind cloud-based middleware solution DxONE Workflow Manager allowed Jefferson Hospital to use its existing IT infrastructure, reducing disruption to laboratory operations and minimizing costs.
Easy implementation with little disruption
Because DxONE Workflow Manager offers cloud-based technology, Beckman Coulter associates performed much of the preparatory work remotely off-site. This reduced the amount of time required on-site for system implementation, which meant less workflow disruption.
Rapid decision-making with visual cues
An intuitive user-interface on DxONE Workflow Manager gives operators a quick view of inventory and patient data. This eases workflow by allowing staff to see items needing attention, based on on-screen flags, comments and sample statuses. Before going live, Jefferson Hospital had to sort through multiple tabs within its laboratory information system to review and release results.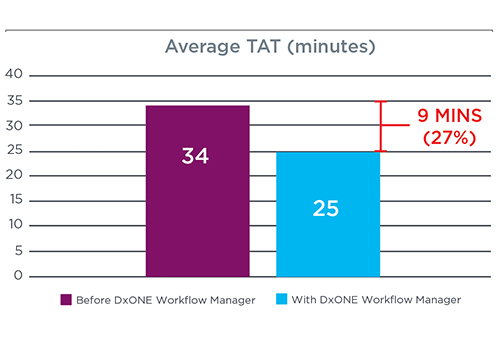 Faster TATs with testing by exception
Using DxONE Workflow Manager, laboratories only perform manual reviews of samples that fall outside the laboratory's defined parameters. Standardizing workflow through autoverification and automatic reflex testing enabled Jefferson Hospital to streamline processes by 82%, as staff members were able to give attention to outliers only. These made up 18% of the tests. The time saved was equivalent to ¾ of an FTE, and less time on manual review resulted in a 27% improvement in TATs.