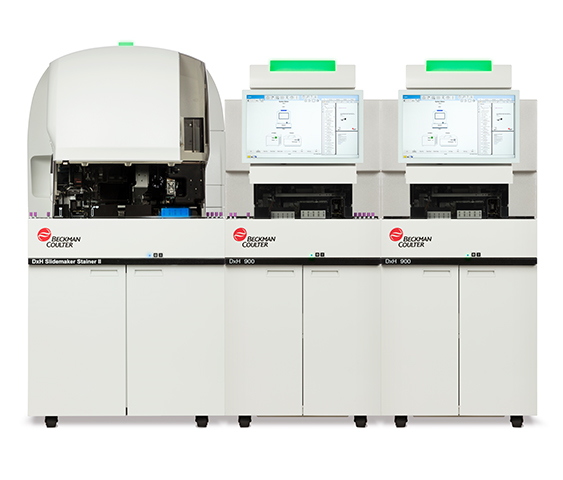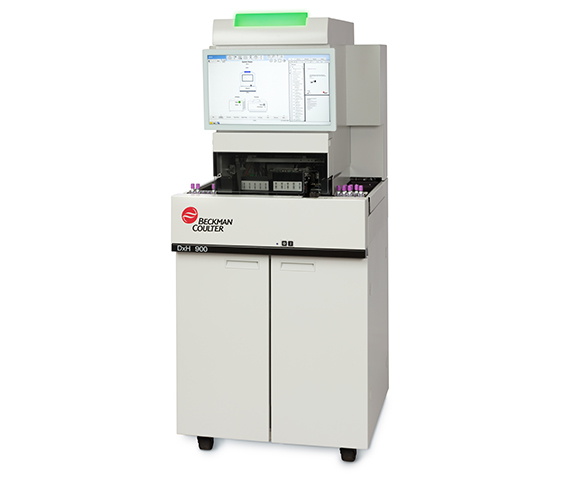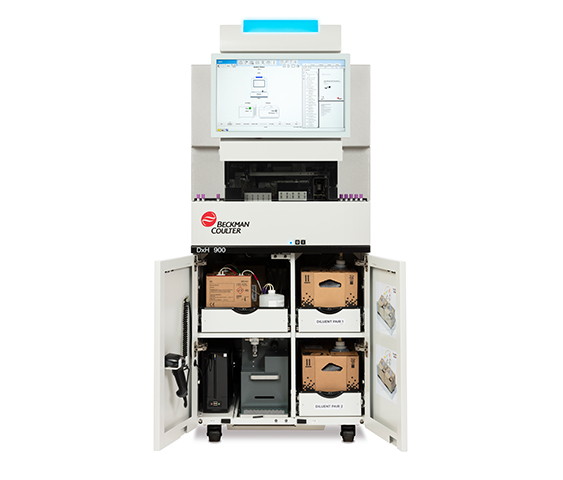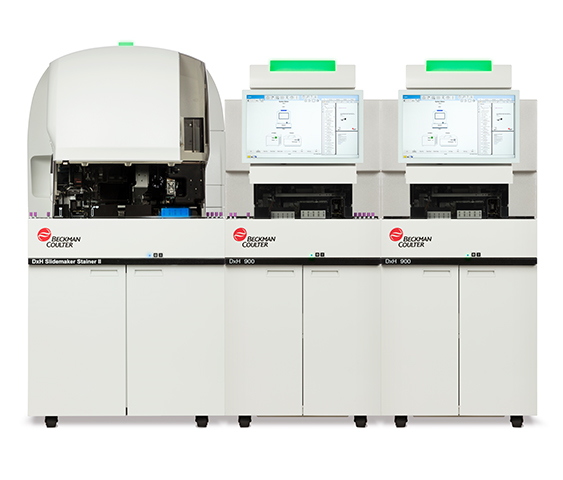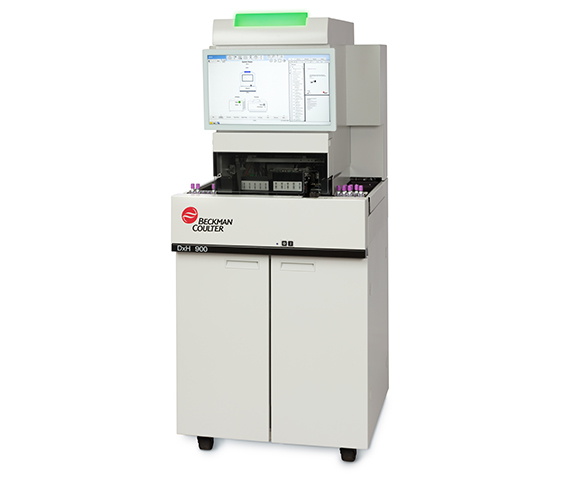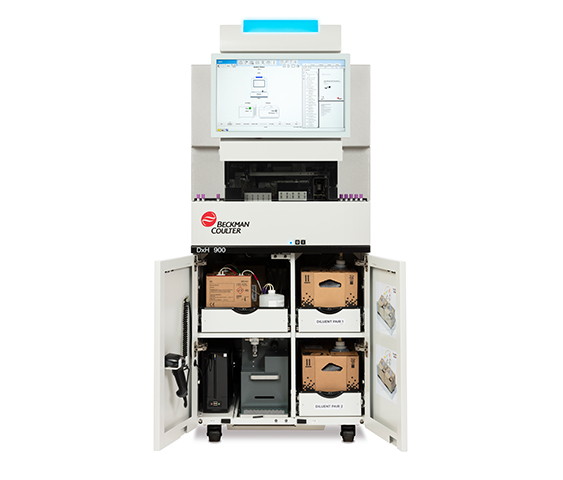 DxH 900 Hematology Analyzer
The right results, the first time
The DxH 900 hematology analyzer enables your high-volume laboratory to achieve superb RBC, PLT and WBC differentials through near native-state cellular characterization. Industry-leading 93% first-pass yield* ensures predictable costs and a faster break-even point. Streamlined processes help your laboratory maximize staff time through the most reportable results per square meter in the industry, fewer slide reviews and high system reliability for greater uptime.
This product may not be available in your country at this time. Please contact your Beckman Coulter sales representative or distributor for more information.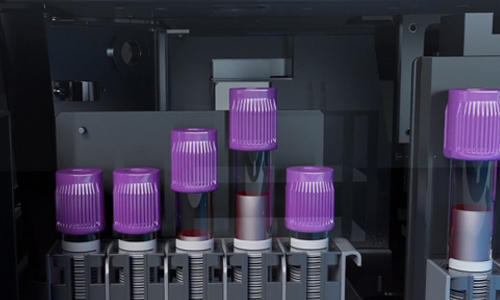 Achieve superb RBC, PLT and WBC differentials through near native-state cellular characterization
Deliver reliable, reportable WBC differential results on the first run, through VCS 360 technology, DataFusion and the enhanced Coulter Principle. These core technologies provide high-resolution characterization without altering cell morphology, providing excellent hematological test results
Support critical clinical decisions through advanced PLT analysis. The enhanced Coulter Principle provides a reportable MPV—even for thrombocytopenic patients—while DataFusion leverages inter-module intelligence to enable improved flagging and identification of interferences
Assess anemia with accuracy by maintaining near native-state cellular characterization throughout the RBC maturation cycle
Facilitate confident slide interpretations through intelligent slide-making. Hemasphere technology analyzes blood viscosity to optimize smearing, and next-generation DxH Slidemaker Stainer II ensures consistent slide quality
Ensure predictable costs and >30% faster break-even point
Experience low cost of ownership through a 93% first-pass yield and predictable reagent consumption
Reduce manual interventions with automated maintenance procedures and less reagent turnover to maximize walkaway time
Utilize a new reportable parameter for the emergency department to identify the possibility of infection earlier to stop potentially deadly complications from developing or progressing, helping to reduce the cost of care
Maximize staff time with the most reportable results per square meter, fewer slide reviews and minimal manual interventions
Streamline QA/QC processes through customizable, automated technology with daily reminders and remote support
Optimize operations through a seamless workflow, small footprint, intuitive software and easy maintenance
Maximize efficiency with one-touch sample processing with total laboratory automation and clinical information management tools
Save time and improve laboratory workflow through body fluid technology that allows fewer serial dilutions and sample integrity monitoring to minimize risk of spurious results
Available Test Menu

CBC: WBC, RBC, HGB, HCT, MCV, MCH, MCHC, RDW, RDW-SD, PLT, MPV
Differential: NE, LY, MO, EO, BA, NRBC, NE#, LY#, MO#, EO#, BA#, NRBC#
Reticulocytes: RET, RET#, MRV, IRF
Body fluids (spinal, serous and synovial): TNC, RBC, Pleural, Pericardial, Peritoneal

Throughput

Up to 100 samples/hour


Reagents

4 required reagents; environmentally friendly methanol- and ethylene glycol-free


Sample Volumes

165 μL aspiration volume; 0.5 ml dead volume


Power

Redundant power computers in a workcell
90–264 VAC and 48–62 Hz
DxH 900 SPM: 520 W
DxH standard computer: 160 W
Monitor: 35 W

Whole Blood Performance—Measuring Range

Parameter
Units
Analytical Measuring Range
WBC
x103 cells/μL
0.050–2.000
>2.000–100.000
>100.000–400.000
RBC
x106 cells/μL
0.005–8.500
HGB
g/dL
0.10–25.50
MCV
fL
50.00–150.00
RDW
%
10.00–40.00
RDW-SD
fL
15.00–150.00
PLT
x103 cells/μL
3.0–3000.0
MPV
fL
5.00–25.00

Data Management

50,000 patient results with graphics for standalone
100,000 patient results with graphics for power computer

Quality Assurance

QC with Levy-Jennings graph; XB/XM for moving averages, daily check, intelligent quality monitoring, MRV, IRF, customizable calibration and QC reminders and alerts, auto export of QC

Sample Transport Capabilities

Capacity: 20 five-tube cassettes
Bar codes: digital bar code with 2D bar code capability
Sample ID: up to 22 characters

Reliability

PROService remote management system: maximum uptime with walk-away troubleshooting and preemptive alerts of instrument issues

Weight and Dimensions

Width: 75.57 cm
Height: 174 cm, cover closed; 194 cm, cover lifted
Depth: 82.80 cm, including removable back panel; 79.25 cm, excluding removable back panel
Weight: 254 kg (560 lbs)

Additional Clearance

3.8 cm behind instrument for sufficient cooling; 15.2 cm per side of instrument for troubleshooting

High First-pass Yield and Low Cost of Ownership Through Predictable Processes
The DxH 900 hematology analyzer offers a 93% first-pass yield, one-third fewer low-confidence flags than other analyzers and lower reagent use, reducing unpredictable consumption and lowering operating costs. Read more to find out about the technology that makes this possible.
Optimized Operations Through a Seamless Workflow
With the DxH 900 analyzer, laboratories can optimize space, save time in workflow processes and benefit from the automatic handling of challenging samples. Find out how.
*Calculation of the number of samples per hour per square meter is based on U.S. dimensions; comparisons include two connected instruments plus one slide-maker/stainer from different manufacturers with side and rear clearance.
†REMISOL Advance is a trademark or registered trademark of Normand-Info SAS in the United States and other countries. Used under license.