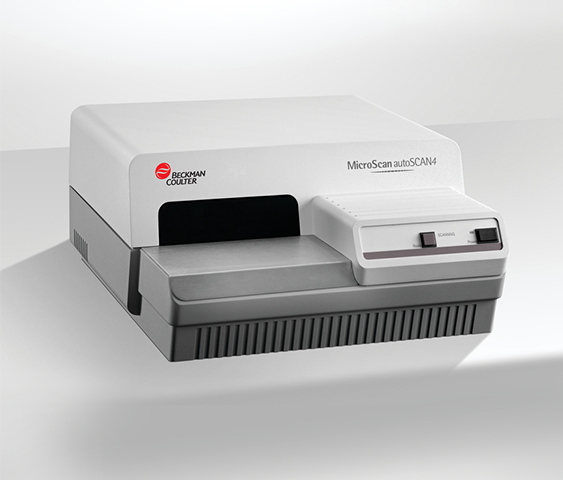 MicroScan autoSCAN-4 System
Standardized ID/AST testing made simple
This semi-automated system provides simplified ID/AST testing in a highly reliable and affordable package.
This product may not be available in your country at this time. Please contact your Beckman Coulter sales representative or distributor for more information.
The autoSCAN-4 system processes panels in seconds, simplifying ID/AST while standardizing results. Over 35 years of trusted experience in reliability and conventional panel technology─with the fewest FDA limitations in automated ID/AST─make the autoSCAN-4 an ideal supplemental system for detecting difficult organisms or as a primary instrument for low-volume usage.

The autoSCAN-4 system includes our LabPro Information Manager software and is designed to simplify workflow and minimize technologist interaction, while accommodating differing regional and institutional environments through extensive customization features. Our LabPro AlertEX software automates detection of atypical results for quick reporting and directs staff to the most appropriate action, based upon customized institutional procedures.
Operation is easy to learn and use, with minimal training
Conventional panels can be processed with direct, non-identification (ID)-dependent MICs, to help you zero in on emerging resistance
Specialty ID panels can be processed for reduced turnaround time when speed matters
Optional remote diagnostics provide an extra level of service responsiveness
Our highly rated service and support teams offer unmatched experience and expertise to ensure the optimal performance of your microbiology service
Physical

Dimensions

Height: 10 in.
Width: 19 in.
Depth: 23 in.

Weight: 40 lbs.
Power cord length: 6.5 in.
Cable to computer length: 8.5 in.
Digital interface: RS-232C (9600 baud)
AC power plug type: 5-15P




Power

Line voltage: 105/115/230 VAC ±10%
Line frequency: 60/50 Hz ±10%
Line current: 2.00A max. (115 V), 1.25 A max. (230 V)
Heat generation: 630 BTU/HR
Uninterruptible power supply (UPS): Optional


Optical System

General: Abridged filter photometer with six interference filters (wavelengths in nanometers: 440, 470, 505, 560, 590, 620), 96-channel fiber optic harness
Light source: Tungsten-halogen lamp, 3500 hours
Spectral bandwidth: 10 nm

Analyzer

System panel capacity: 1 panel/reading
Read time: Less than five seconds

Safety Requirements

Ground impedance: 0.1 ohms maximum
Dielectric withstand voltage: No dielectric breakdown (@ 1000 VAC 60 Hz for one minute)
Power cord: 3-conductor, 16 AWG industrial grade SJT
Overcurrent interrupter: 1.60 A (115 V), .80 A (220 V)
Leakage current: Less than 500 uA

Safety Compliance

The autoSCAN-4 instrument was designed and tested to comply with safety standards UL3101-1, CSA C22.2#1010.1 and EN61010-1 under the following environmental conditions:

Temperature

5˚C (41˚F) to 40˚C (104˚F)

Humidity

Maximum 80% at 31˚C (88˚F) to 50% at 40˚C (104˚F)

Altitude

Maximum 2000 m. (6,561 ft.)

Main Supply

115/230 VAC, 50/60 Hz, 230 W maximum

Overvoltage Category

Category II, connected to a branch circuit

Pollution Degree

Degree 2, normal indoor laboratory environment. Air contains only non-conductive pollutants with occasional condensation.

Emission Compliance

The autoSCAN-4 instrument was designed and tested to comply with standard EN61326.

Product and Peripheral Equipment Dimensions

Specifications are for autoSCAN-4 instrumentation only and do not include peripheral equipment. Dimensions for peripheral equipment are informational only and may change without notice.

The autoSCAN-4 system is a workhorse. We've had it for a long, long time and now it serves as our backup instrument. It's a very dependable apparatus that rarely has any problems.
Baystate Medical Center