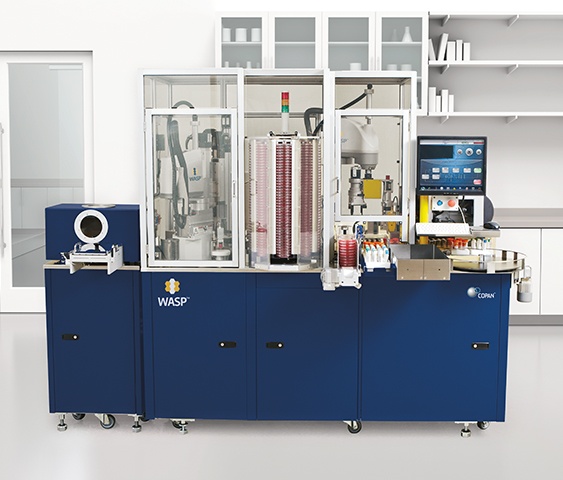 Copan WASP® DT: Walk-Away Specimen Processor
Automate sample processing your way
The Copan WASP DT* uses an innovative technology that provides a total solution for pre-analytical specimen management, bringing standardization and quality to specimen culturing activities.
This product may not be available in your country at this time. Please contact your Beckman Coulter sales representative or distributor for more information.
The WASP DT is the first system to automate all the core aspects of microbiology specimen processing, including planting and streaking, Gram stain slide preparation and enrichment broth inoculation. As a modular open platform, WASP DT easily adapts to the changing needs of the future.
Enhance productivity
The Gram SlidePrep module reduces staff time by automating Gram slide preparation and permanently printing barcoded patient and specimen information on the slide
The loop and tool change station allows for longer walk-away time and less user intervention by automatically selecting the appropriate inoculation tool (available in 1, 10 and 30 μL loop sizes)
The dual streaking capability simultaneously streaks both sides of a biplate to increase throughput for high-volume specimen management
The media carousel consists of nine silos and holds up to 378 plates of any manufacturer's standard media to accommodate most plating protocols
The broth enrichment/Kirby-Bauer inoculation module provides automatic inoculation of enrichment broth and Kirby-Bauer plates with no labeling required
Improve quality
The Smart Scan technology reduces sample rejections by selecting the relevant barcode in the case of multiple labels
The image analysis verification system confirms accuracy and integrity of the loop, as well as the presence of inoculum
The individualized specimen management system provides a clean work environment with its containment and confinement measures
Increase flexibility
The specimen incoming conveyor system allows continuous feeding of any sample type. No batching is necessary when using pallets
The universal decapping station automatically opens and closes specimen containers of any size
The inoculation system improves productivity while offering process standardization. It utilizes reusable standard metal loops with classic streak patterns, which reduce consumable waste. It can streak up to 130 plates per hour with full automation of all steps, including sample vortexing and decapping/recapping of the tubes
The Power of Smart Microbiology Automation
Get reliable results, save time and reduce overhead through full automation of pre-analytical, analytical and post-analytical tasks.
One Partner for All Your Automation Needs
Discover the complete solution for every step in your microbiology laboratory—from initial specimen processing to final results. Read testimonials from partners on how we helped them address their microbiology automation needs.
Optimize Your Microbiology Laboratory Workflow
Learn how innovations in microbiology—including automated sample processing and streamlined workflows—can improve results. Read this brochure for more information about WASP DT.
*WASP is a registered trademark of Copan Italia SpA.